Updating your kitchen isn't just exciting and fun -- it's rewarding, too. In fact, an estimated 70 percent of all kitchen remodeling costs are recouped upon resale. So, how do you get the most bang for your buck?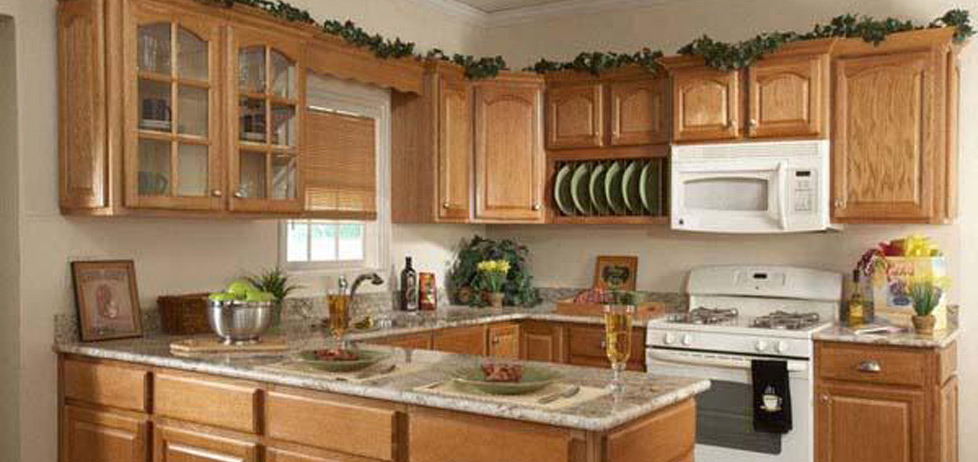 Stone Kitchen Countertops

Are you looking for just the right finishing touch for your kitchen remodel? Well, the countertopping serves a functional purpose as well as filling one of the largest design elements in a kitchen. Countertopping can consist of several different materials, but one category that dominates is natural stone.

There are many stones that fall into this category, and each one presents its own unique beauty and appeal.
- Granite. Granite is a type of igneous rock that exists in several locations all around the world. It comes in many color combinations, providing slabs of exquisite pattern and beauty. Granite is extremely durable, and resistant to staining, heat, and scuffing. It is a bit more expensive than other countertopping surfaces, but viewed as a classy and prominent focal point.
- Sandstone. Sandstone is a rock formation that contains feldspar and quartz. It is so named because it is made up of several sand-like mineral particles. Sandstone comes in white, beiges, blacks, grays, and red tones. It is very durable, and brings a stunning piece of nature into your kitchen. Sandstone is prone to absorbing stains, and can be damaged with high heat or acidic liquids.
- Limestone. Limestone is another natural stone option that has been used in architecture for centuries. It is strong, durable and offers a rugged beauty that is unsurpassable. Just like sandstone, it is also susceptible to staining, heat and acid.
- Marble. This gorgeous rock is both mined directly from the earth and cultured in factories. It offers deep colors with delicate swirls woven-in. When polished and sealed, it creates a lovely surface. It is a bit more fragile than the other natural stones, and care should be taken where it is used.
- Quartz. Quartz countertops are similar in appearance to granite and offer another durable and beautiful natural stone option.
- Slate. Slate countertops are essentially slabs of hard rock that have been cut for interior use. Their surface is a bit more uneven and rough than some of the other stone options, but their beauty is exceptional.

Whatever stone you choose for your countertopping, you are investing in a quality material that will add value and beauty to your home. Out of all of the countertopping choices, natural stones are chosen the most and recognized as a material of value and class.

Granit
Countertops are certainly a main focal point in any kitchen, so if you want yours to radiate "sophisticated and classy," granite may be the way to go. Here are a few pointers to help you decide.

Costs
A decade ago, granite countertops were hard to come by, but today there is a much greater supply and thus a lower price tag. Prices vary from $35 to $100 on square food including installation.

Pros
Granite comes in a large array of colors.
With a polished, high-end look, granite can add value to your home.
Countertops made from granite will not depreciate in value.

Cons
Granite, along with other stone countertops requires professional installation.
If hit by a hard metal object, granite can crack.
A sizable price tag and complicated installation mean that granite cannot easily be changed or taken out.

Durability
Granite countertops will basically last as long as you want them to. The material is extremely sturdy and can even take the heat of a pan on its surface. Just be careful not to hit it with a metal object-this can cause chipping.

Maintenance
Luckily, granite is an inherently sanitary material, so bacterial contamination in your countertops shouldn't be much of a problem. Plus, the maintenance is extremely easy.

1. Clean with warm water and mild, non-abrasive soap.
2. Make sure to clean up grease immediately to avoid accumulating stains.

Common Questions and Answers

Do granite countertops need to be sealed?

Basically, light granite needs to sealed, and dark granite does not. If you aren't sure about your particular stone, spill a few drops of water in a discreet area of your countertop. If the granite darkens, it needs to be sealed, but if it remains the same shade, then it's fine as is.

Will all cabinets support granite countertops?

Luckily granite spreads its weight fairly well, so most cabinets will support it. However, it's important to ask us about your cabinets in particular before moving forward.

Due to its weight and complicated installation process, granite is not recommended as a DIY project. If granite is your material of choice, consult Nick's Kitchen and Bathroom Remodeling before attempting the job yourself.

BACKSPLASH

Once upon a time, backsplashes were functional, practical and necessary. They saved the back wall behind the kitchen sink and stove from sputtering faucets, splashing dishwater and popping grease. And they still do. But backsplash mania has given a whole new meaning to what's back there!

Today, it's just as much about a splash of color, a splash of style and a big splash of creativity as it is about usefulness. When it comes to stone backsplashes, the sky's the limit. Generally speaking, your backsplash receives far less punishment than the countertops, so there are hundreds of materials available. In addition, the right stone can be an inexpensive way to add an elegant touch to your kitchen. Here's what you need to know.


Durability
Stone is perhaps one of the most durable options when it comes to countertops and the same goes for a backsplash. However, if you want to keep yours looking great for years to come, it's imperative to have the backsplash properly sealed.


Maintenance
While it's important to keep up with the maintenance of a stone backsplash, it's relatively easy to do so. Here are a few steps to remember:

1. Wipe the backsplash down regularly with a clean, damp cloth.
2. Use either a stone cleaner or a mixture of warm water and pH-neutral dish soap in a spray bottle. Wipe clean with a damp cloth to get rid of excess cleaning product.
3. Dry with a clean cloth.

What is the best stone to use as a backsplash?

While there are more options for stone backsplashes than countertops, granite might still be the best choice for both-it's the only stone that has virtually no drawbacks. Granite is second only to diamonds in hardness, and has the ability to withstand extreme heat, ultraviolet lights, acids and abrasions.

What is the least porous stone backsplash material?
That would probably be soapstone. It's low-maintenance and very resilient, although soapstone is susceptible to scratching.

Glass Tile Kitchen Backsplashes

One of the most popular materials for backsplashes these days is glass, and for good reason: it's versatile, attractive and available in endless choices. With this material, you won't have to worry about mold or mildew or any extra upkeep. Plus, it brings a little extra color and flair. Here are the facts to help you decide if glass tile is right for your kitchen.


Costs
One of the more expensive backsplash options, expect to pay between $7 and $30 per square foot for glass tile. This can vary, depending on the materials used and the cost of installation.

Pros
Endless color and style options, e.g. clear, frosted, translucent, metallic, iridescent, textured and stained-glass.

Non-porous and non-absorbent. Highly resistant to mold and mildew.
Never fade or scratch, and don't require any special anti-UV treatment.

Cons
More expensive than ceramic.
If the grouting is done poorly, it can show through the tiles.
Installation is complicated and shouldn't be tried as a DIY project. Ask a local installer how much labor costs in your area.


Durability
Glass tiles are impermeable and non-porous, so they resist any type of water or spillage and will never stain. Plus, they can't fade or scratch, which means that they can be installed in any room of the house without risk of damage. And since they don't absorb any liquid, they'll also never decay-unlike other tiles.


Maintenance
Glass tiles are non-porous, so keeping them clean is easy. Simply wipe down the surface with water and a soft cloth then dry with a clean cloth.


Common Questions and Answers
Do manufacturers offer glass tile in different colors and shapes?

Yes, and new trends in recycled glass tiles have provided even more options. Most companies offer well over 50 different styles, textures and colors. Glass tile is available in a variety of shapes as well.