Did you know that the investment return on the average bathroom remodel is 80 to 90 percent?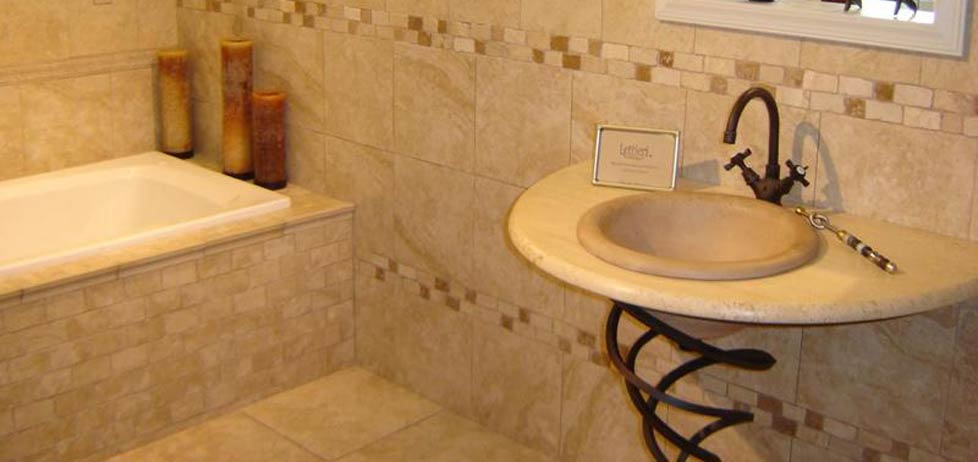 So, remodeling your bathroom is almost free?
One of the best ways to revolutionize the quality, value, and appearance of your bathroom is through replacing its tiles. Bathrooms need tiles. Lots of them. Bathrooms usually have tiles on the floor, tiles on the wall, tiles in the shower, and sometimes even tiles on the countertop. Tiles are what keep the water from penetrating your walls. They are what provide a bathroom with its striking beauty and clean appearance. They are, in essence, what a bathroom is defined by. And besides, they provide excellent acoustics for a hearty shower sing.
Tile Sizes

Choose the right tiles and you'll walk all over them without a second thought. They come in various sizes with a recent trend toward larger tiles for floor (12" x 12") and wall (8" x 10") applications. The reason? Larger tiles make a space appear...larger. They can also make installation easier, and thus cost less. Some floor tiles come in multiple sizes, which allows for creative patterns.
Rules of Color

Two basic rules to remember: Lighter colors make a space appear larger; darker colors add warmth and hide dirt well. A recent design trend is mixing vibrant colored tiles with neutrals to create contrast.
Texture, Hardness and Porosity

Generally speaking, textured or matte finish tiles are less slippery than smooth or shiny tiles something to keep in mind when choosing floor tiles. A tile's "slip resistance" is measured by its "coefficient of friction," which is provided by some manufacturers.
A tile's porosity relates to the amount of water it absorbs, a critical measurement especially when remodeling your kitchen or bathroom. The least porous/absorbent tiles are classified as "Impervious," and suitable for kitchens or bathrooms; the most porous/absorbent are "non-vitreous" tiles. Porous tile should not be used outdoors where cold weather produces freeze/thaw cycles.
Selecting the Style of Tile

Everyone has their own preferences but here are a few hints: Rustic or stone-looking tiles are popular because they fit in with many decors and hide dirt well. Marble-style tiles lend a more formal look. Mixing in a few handmade or glass tiles with basic tiles can create a custom feel at an affordable price.
Choosing a Grout

Grout comes in a wide variety of colors. Using grout that matches the tile helps lines disappear. A contrasting color makes the individual tiles stand out. If you plan to sell or rent your home soon, consider using earth tones; these lighter colors tend to blend in with a broader spectrum of paints, wallpapers, and cabinetry. On the other hand, tile and grout offer the chance to customize your bathroom if you plan on staying for a while.